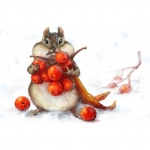 Cărţi poştale trimise:
40
Cărţi poştale primite:
44
Cărţi poştale în progres:
0
Stele primite:
5.00
Ţara:
Rusia
Limbi:
English, Russian
Membru din:
17 August 2020
Ultima activitate:
21 Ianuarie 2022
Hello! I am Natalia. I' like to travel and send and receive postcards. I look forward to receiving your card with EUROPA stamp!

If you can send me a postcard with UNESCO WHS from country of origin and write something about it on the postcard - I would be very happy!

My UNESCO collection: https://www.flickr.com/photos/62048869@N05/collections/72157627243818337/

My missing UNESCO https://docs.google.com/document/d/1ilW8VfGL95Xgt2QWEKWXe8J8OmC2nORoFogSwNgYtWg/edit?usp=sharing

And I will be happy to receive a postcard relative to stamp, so you can choose the card according to your Europa stamp. Cards matching the theme of your EUROPA stamp are always welcome, even if they are not on my actual wish list.